Shop TODAY independently determines what we cover and recommend. When you buy through our links, we may earn a commission. Learn more.
Is the K-Beauty makeup spatula trend for you? Experts weigh in and share tips
TikTokers are applying their makeup with a spatula tool, so we asked beauty experts to share their thoughts and favorite ways to apply makeup.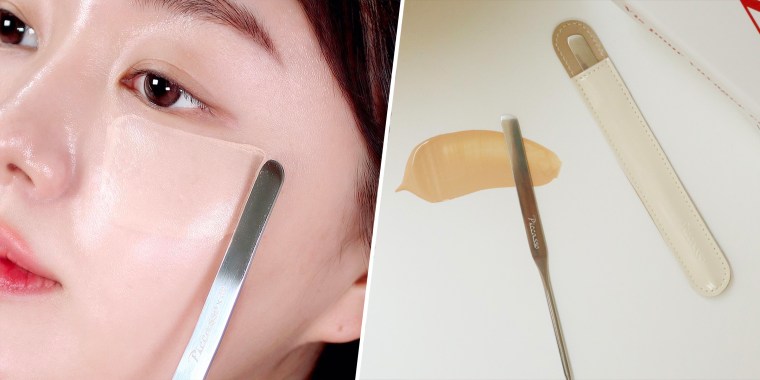 From sheet masks to slugging, K-Beauty is always changing the game across the beauty industry with cutting-edge products and hacks. So, it's no surprise that when a new trend goes viral across social media platforms, it ties back to a K-Beauty innovation. One that recently popped up on our TikTok "For You Page" had us both intrigued and scratching our heads; applying your foundation with a makeup spatula.
If you watch one of the many highly-viewed videos with the #makeupspatula tag (which has over 12.7 million views on TikTok), you'll see TikTokers using the metal tool for foundation application. Effortlessly using a makeup spatula to layer on their coverage, the short clips had us thinking: What is the best way to apply your foundation?
That's why we asked three makeup artists and beauty experts to weigh in on the trend and share their favorite ways to apply foundation.
What are the benefits of the makeup spatula?
Our experts had varying thoughts on this trend. New York City-based makeup artist and beauty expert, Neil Scibelli, says that although he hasn't personally used this method on his clients, he does think it's an innovative and unique way to apply makeup as it allows for gradual layering. For beauty expert Jeannia Robinette, it ultimately seems like a messy and time-consuming process.
However, if you do want to put your makeup application skills to the test, there might be benefits depending on your desired result. Makeup artist and founder of LYS Beauty, Tisha Thompson, says this technique can help you achieve the no-makeup-makeup look. "The best way to do this is to use a small amount of foundation in a thin line on the spatula and spread it in small areas at a time, then blend as you go. Another key tip is to be very light-handed when spreading it as it can remove layers under so be gentle," says Thompson.
Scibelli adds that the process will help you achieve a fluid and buildable texture. "I think you can use a spatula to sort of pat on products, especially concealer on any blemishes, rednesses or areas that need that additional coverage," he says. However, he does mention that people with certain skin types might want to avoid the spatula method, such as people with acne-prone or maturing skin.
"You don't want the spatula to settle into any areas of the skin. Especially for acne-prone skin, you really don't want to be pressing that inflammation down and those breakouts into the skin ... you also could be spreading that bacteria," says Scibelli.
Expert-favorite ways to apply foundation
While the beauty experts agree that they prefer more traditional methods of application, some favor one over the other, regardless of skin type. Robinette says her ideal way to apply makeup for a natural finish is either with a brush or fingers. "I love touch-to-skin. That's the most natural you're ever going to get. If you put it on with your fingers ... the warmth from your fingers allows it to melt in better, and it's just like a second skin when you do that," she explains.
Scibelli is open to clean fingers for a sheer finish but he loves using both a sponge and a foundation brush, especially for those looking for fuller coverage.
"I definitely would recommend using a foundation brush and then to really smooth that finish out, I would grab a damp beauty sponge and do a quick blend through with your sponge. That will leave the skin looking really set and really flawless," he says. But if you do opt for a sponge, he notes to make sure that it's antimicrobial.
And Thompson agrees, she says brushes and sponges are the perfect tools. "As a makeup artist I do favor brushes and I find them to be easier to clean, but sponges work well and can be really good for the novice makeup user," she says.
Applying foundation for mature skin
Overall, the experts don't recommend the beauty spatula for maturing skin and agree that traditional methods work best. They are in agreement with a different makeup hack: Mixing your favorite moisturizer or facial oil into your foundation prior to application for a smooth finish. And Scibelli says for aging skin, less is definitely more because you don't want to accentuate fine lines or crow's feet.
"I would suggest applying the foundation with the beauty sponge almost directly because I think when you use a foundation brush, it can definitely lean into a fuller, heavier finish," explains Scibelli.
Best beauty tools, according to beauty experts and reviews
If you're looking to try the trend yourself, this Picasso spatula is the tool that started it all (and with a fitting name). According to the brand, this stainless steel spatula is meant to help apply the thinnest layer of foundation. It also happens to be multifunctional, you can use it to mix makeup colors or even use it to apply nail accessories and enhancements, says the brand.
Scibelli happens to be obsessed with this affordable beauty sponge, which he says the unique shape can help you achieve an airbrush finish.
"The coolest thing about it is that it's super soft and great for sensitive skin. It's antimicrobial but also one side of the sponge is super flat, so you can use it to contour around the jaw and cheeks. And the other side is the traditional dome shape, so it's actually pretty unique because it has a bunch of multi-angles on it," he says.
While this may be a splurge item, Robinette (who used to always apply makeup with her fingers) says this brush by Artis is a game-changer and can be used for all types of skin. She also mentioned that many of her clients say it feels like a facial massage. "It just feels so good and it puts your makeup on so natural and so clean, you could put it under your eye, all over," says Robinette.
According to the brand, this patented design is made to mimic the shape of your face and can be used to apply foundations, concealer, bronzers, loose powders and more.
Amazon shoppers can't get enough of this No.1 bestselling sponge pack. And what's not to love? You get five sponges for under $10! With over an impressive 85,000 ratings, the brand says it's made of soft non-latex material and is perfect for foundations, BB creams, powders and more. "These are super soft. They don't feel rubbery, they bounce when applying foundation and leave a flawless application," says one verified reviewer.
Real Techniques products are expert-loved and often go viral, and we can see why. This foundation brush is currently under $8 and has over 13,000 Amazon ratings. One verified reviewer said thanks to this brush, she no longer uses her fingers, "the hairs are so soft and stay in place unlike some other brushes I've used where you end up with the hairs on your face. My foundation look dewy and really pretty after applying with this makeup brush. Will never go back to just using my hands."
If you're looking for an affordable oval brush option, this set comes with five makeup brushes for foundation, concealer, eyeshadow and more. The set has racked up about 5,000 Amazon ratings, and one reviewer says she wish she tried them sooner, "these brushes, despite appearing somewhat odd, are seriously freaking amazing. They blend well, pick up more product, and create a flawless finish, seriously, I swear they cut down my beauty prep time."
One Shop TODAY editor said this kabuki brush replaced her other brushes. According to the brand, the flat top design of this brush won't absorb an excessive amount of product and can help achieve a smooth application, without any streaks. Not to mention, it has over 34,000 Amazon ratings, with an average of 4.5 stars.
The OG beauty sponge is not only a number one best seller but is also a beauty award winner. According to the brand, the bouncy sponge will provide a streak-free application for a smooth foundation finish, and they mention that the pointed tip is perfect for precise contouring.
Meet our experts