Our Story and Beliefs
We believe that your beauty experience should be beautiful in itself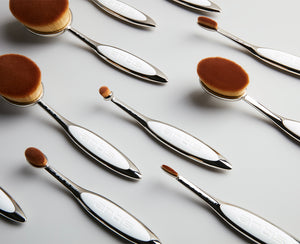 our story
Artis, the Latin word for "skill, method, technique," recognized that the entire category of beauty tools was based on an "artist-applies-to-the-canvas" premise—someone applying product on someone/something else. How different is the experience when the artist is the canvas? The answer is: a totally different beauty paradigm. Artis brought a disruptive perspective to the process of makeup self-application, to design and create a new category of beauty tools which enable a more intuitive, beautiful and ergonomic experience.
The secret to that delicious finish is in our CosmeFibre®. It's engineered to be used with cosmetics and skincare across all types of formulas - liquids, creams, and powders. Each fibre bundle is packed with 3-10 times more fibers than their closest makeup brush counterpart. The tip of each CosmeFibre® tapers down to 3 microns (which you can't see with the naked eye) so you get the softest application and superior results.
Brush Handle
The handle is ergonomically designed to fit more comfortable in the hand of the user. Each brush is weight-balanced, which helps enhance application and performance. The updated 2021 design of the Artis Elite Collection is produced using a proprietary new premium metal alloy that has a luxurious density, increased durability, and feels even smoother to the touch.
orientation
The fibre bundle of the brush - what most people know as the brush head - is positioned on the handle to mimic the way the pad of your finger would move across your face if you were using your own fingers to apply a product. This design makes your beauty ritual more intuitive and comfortable.
a ritual, not a routine
Artís designs products that are both beautiful to handle and functionally superior to use, for a self-application experience that is graceful, meditative, and expressive, with remarkable results. The innovative makeup application tools deliver gentle control and efficient flawless application for a beauty experience that offers users both strength and softness.
better beauty, by design
Artis is constantly innovating and designing products that create a better beauty experience. The culture of the organization itself is inspiring, curious and collaborative, the creative aspects of work, but to our mission to offer products that create a beautiful experience.
"The best makeup brushes on the planet."
"Changed my foundation-blending game."