These Artis Makeup Brushes Are Getting A Very Luxe Update & Fans Are Going To Be So Happy
COURTESY OF ARTIS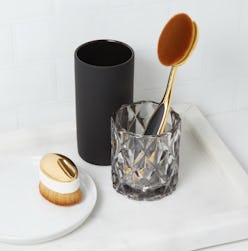 The first official day of summer is within reach, making now an ideal time to evaluate the current state of your medicine cabinet. That said, your beauty shelf overhaul may leave you in need of few new brushes. And, if that's the case, you're in luck, as new iterations of the Artis Palm Brush Mini and the Elite Oval 7 are arriving soon to give your vanity a luxe touch.
If you're one of the fans who's been asking Artis to bring back the brand's limited-edition Elite Gold Collection from 2016, you'll be pleased to learn that you can now scoop up two more beauty brushes featuring glimmering gold detailing. In honor of Artis' 5th anniversary and to celebrate the beginning of summer, the brush brand is offering up the Palm Brush Mini, $60, and the Elite Oval 7, $75, with a 24K gold plated finish, for the first time ever.
Currently available for pre-order and for purchase on June 19, the handle-less Palm Brush Mini, Gold Finish is the perfect size for travel. True to its name, the brush fits right in the palm of your hand and can be used to apply cosmetics and skincare products to the smaller areas of your face. The versatile brush will work with liquids, powders, and creams, so with one handy tool you can take care of your complexion needs.
The second brush to be unveiled in a glistening gold is the Elite Oval 7, Gold Finish, which provides a handle with a black grip pad. This multi-tasking tool also works with a range of product formulas and will help to blend foundation, bronzer, and setting powder on your face.
There's no doubt that these two brushes will be highly used members of your beauty arsenal. However, in addition to providing function they'll also bring just as much style to your bathroom. Now, while in the past you may have tucked your brushes away behind your mirror or in your makeup bag, this duo is meant to be seen and you'll definitely want to leave them out for your other beauty-obsessed friends to admire.
Continue on to see and shop the two newest additions to the Artis family below, and head over to the site to view more brushes you may want to have on hand for the season ahead.