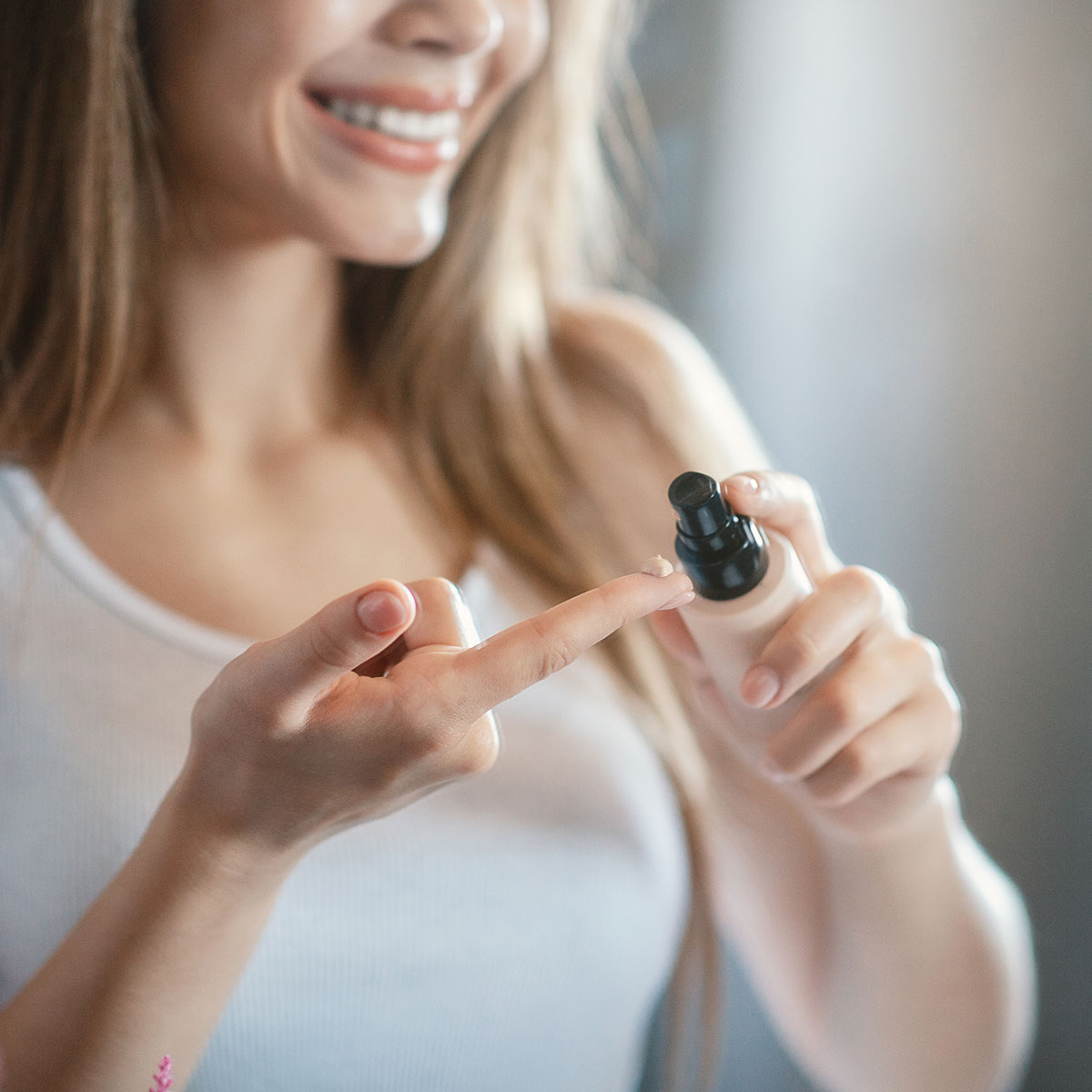 Tinted moisturizer is like a little gift from the makeup and skincare gods to those of us who love makeup, but don't always want to look like we're wearing any. If you're not a huge fan of foundation, or feel like it has its place (like dinners out and events) but still want to give your skin a daily lift without looking like you've piled on makeup, you're in for a treat. Tinted moisturizers were practically made with you in mind. Consider yourself a skincare fanatic who is serious about sunscreen protection? Even better: there are plenty of tinted moisturizers with SPF that are calling out your name. 
But anyone who has eagerly opened up their bottle or tube or tinted moisturizer and treated it like any other other moisturizer — spreading it across the face and eyebrows and eyelashes with abandon — probably quickly realized this tool comes with its own set of application rules. 
This is the tinted moisturizer hack you need to know to make you look and feel years younger — and the best steps to take to easily master this no-makeup makeup look. 
The 25 Best Mother's Day Gift Ideas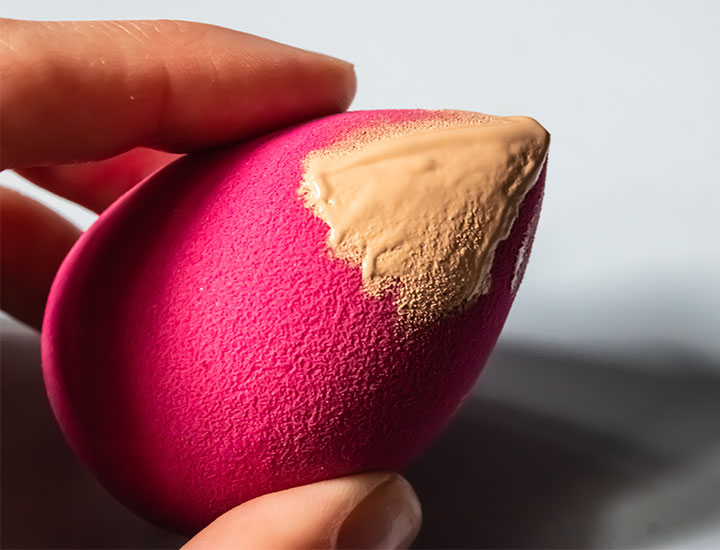 Shutterstock
First: Don't Treat Tinted Moisturizer Like A Foundation 

It doesn't always matter if you go overboard applying your moisturizer. Your skin might even thank you for the long, tall, hydrating drink. But tinted moisturizer, though far more moisturizing than most foundations, doesn't play by the same rules. 

"The original concept behind the emergence of the tinted moisturizers or CC creams was to offer an 'all-in-one' option for a person that doesn't need a lot of coverage, but just an evening-out of the skin tone and texture," explains Matthew Waitesmith, founder of Artis makeup brushes and former VP of Artist Training and Development at MAC Cosmetics. "It also had the benefit of not adding a heavy layer of product on top of your skin so that it looked more natural. And, this type of formula is more economical, as it is just one product to achieve what others suggest should be achieved with several product/formulas layered onto each other."
Shutterstock
So, keeping the original objective in mind, Waitesmith says you should assume the pigment load in this kind of product will never be as high as a foundation formula dedicated to serious coverage. "So, when it comes to evaluating the skin color match, make sure you get the shade and undertone matched, and if all you need is some skin evening, then it should help you achieve that," he says. "Try a little on the back of your hand to see how it affects the skin tone and whether it minimizes or exaggerates the texture of the skin and knuckles. If the skin where you tried the product doesn't look natural, keep shopping around for another brand until you get a result on that part of your skin/body that looks improved and natural."
Shutterstock
Second: Do Treat It Like Skincare 

The other component of tinted moisturizer to keep in mind is that it is skincare, Waitesmith says, so you should look for a formula that meets your skincare objectives. "If you feel you have generally dryer skin, then make sure the tinted moisturizer has a formula that provides, and then helps hold onto, moisture, so that the surface layer of skin cells can be as plump and even in texture as possible," Waitesmith says. "And the skincare component should also provide some environmental protection, so look for ingredients or a claim about UV protection."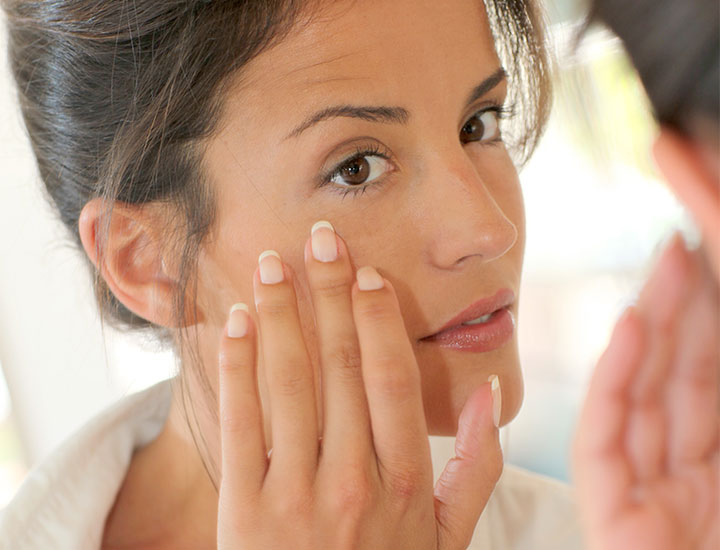 Shutterstock
Less Is More

Regarding how best to apply and distribute this kind of formula, the application is the simple step and can be done with a finger to the larger areas of the face, Waitesmith notes. "Just make sure you believe and practice that in this case: less is more. I have seen people slather on tons of tinted moisturizer, and then are disappointed with the results. Too much, will always look like too much."
Shutterstock
Once you apply the correct amount of product, the distribution of the formula is more important, Waitesmith says, so that the product glides across the skin easily and uniformly. "So, you should consider a makeup brush that excels at that kind of performance, such as the Artis Brushes," he says. "You shouldn't expect this kind of formula to be one that you would layer to achieve more coverage, since it is not really intended to be used that way. So, if you only have a spot or area that needs focused coverage, you should dot a separate concealer product on that area to achieve that coverage. Many makeup artists like to use concealer under the final makeup layer, to help give a less cakey or overdone look. Trying to use only the tinted moisturizer for serious coverage will result in using too much product, and that will lead to an overdone look."

Tinted moisturizer is a great option for those who like things to be simple, Waitesmith says — and it's easy to work with, to boot. "If that's not you, then there are many other wonderful makeup product options you can explore," he adds.