Secondhand style strides forward in Oxfam's London fashion week show
Pre-loved style pioneer Bay Garnett dresses stars in curated stock from Oxfam's warehouse for LFW's opening show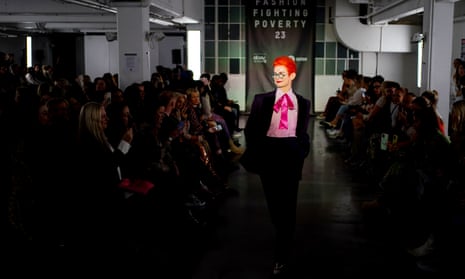 The first show to kick off London fashion week on Thursday night had all the usual elements you'd expect – a long runway with pumping music, models in towering heels and surprise celebrity appearances causing the front row to whip out their phones.
However, there was one particular point of difference: the cast, including the model Erin O'Connor, TV presenter Miquita Oliver and the trans activist Munroe Bergdorf, were all wearing secondhand clothes.
The show, Oxfam Fashion Fighting Poverty, was the third time the nonprofit has taken part in London fashion week.
All the clothes came from Oxfam's own stores and were styled by the British stylist Bay Garnett. Every look was available to buy on eBay after the show, helping to raise funds for the charity.
Garnett is a pioneer of secondhand fashion and famously dressed Kate Moss in pieces she had found in charity and vintage shops for a shoot in British Vogue in 2003. A banana-print top featured in the shoot, which Garnett had found in NYC, even went on to inspire Chloé's spring/summer 04 collection.
For Thursday night's show, Garnett said she started the process by thinking about different types of tribes. Working through stock at Oxfam's 50,000 sq ft warehouse in West Yorkshire, Garnett narrowed down what she wanted to feature by thinking about different types of tribes. "There has to be some type of character within the clothing, then I piece it together. So there's punks, goths, the 60s, Americana, it's a real mix."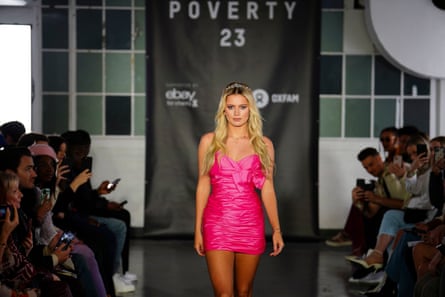 Rejecting trends – "I think it's a construct" – Garnett cleverly created a variety of looks that would still appeal to a wide variety of cohorts.
The reality TV star and eBay ambassador Tasha Ghouri looked as if she had stepped straight off the Love Island set in a hot pink minidress and diamanté heels. Erin O'Connor paid homage to Yves Saint Laurent in a simple Le Smoking-esque black suit, while a pregnant Daisy Lowe seemed to follow the pop star Rihanna's guide to maternity wear in a form-hugging velvet mini. Meanwhile, the train enthusiast and TikTok star Francis Bourgeois, who has starred in a campaign for Gucci, wore a two-piece chequered suit which looked like it could have been fresh off the Milan runway.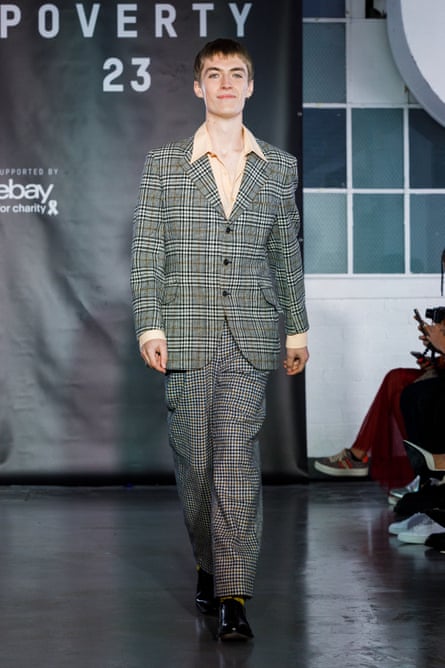 One of Garnett's favourite finds was a purple 1960s Christian Dior suit, modelled by the British costume designer Sandy Powell. Styled with a pink shirt and magenta-ribboned tie backstage, Powell said it was the type of thing she would wear in real life too. "I would encourage anyone who is still buying fast fashion to stop. Buy something from a charity shop instead. It lasts so much longer."
It was a sentiment echoed by Bergdorf. "My favourite ever charity shop find was a pair of Burberry trousers. They no longer fit so I passed them on to a friend. Sharing clothes is all part of sustainability."
Not everything came with a designer label, but most were vintage pieces, including an 80s taffeta prom-style dress worn by Oliver, and Garnett purposely avoided any fast fashion brands.
The show, which was full to capacity, reflects the growing interest in pre-loved fashion. According to GlobalData, the clothes resale market in the UK grew by 149% between 2016 and 2022. It is forecast to rise by 67.5% from 2022 to 2026. A spokesperson for Oxfam says its main clothing categories including womenswear and menswear are having the bestselling year of the last six, with year on year growth of more than 20%.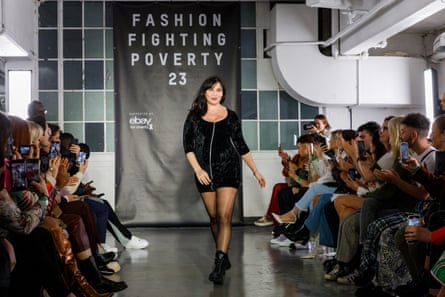 Garnett, who started her career in fashion in the 90s, is excited by secondhand's growing popularity, especially among younger generations. "Buying secondhand is a form of activism. We're in a climate emergency so why wouldn't Gen Z buy secondhand? A sustainable option is now cool."
Later in the evening, the demi-couture designer Harris Reed showed a flamboyant collection inspired by Shakespeare's famous monologue All the world's a stage, from As You Like It. The show was opened by the actor Florence Pugh, who performed part of Jaques's speech, while the models wore gold and black sequins to a live rendition of Led Zeppelin.
I hope you appreciated this article. Before you move on, I was hoping you would consider taking the step of supporting the Guardian's journalism. 
From Elon Musk to Rupert Murdoch, a small number of billionaire owners have a powerful hold on so much of the information that reaches the public about what's happening in the world. The Guardian is different. We have no billionaire owner or shareholders to consider. Our journalism is produced to serve the public interest – not profit motives.
And we avoid the trap that befalls much US media – the tendency, born of a desire to please all sides, to engage in false equivalence in the name of neutrality. While fairness guides everything we do, we know there is a right and a wrong position in the fight against racism and for reproductive justice. When we report on issues like the climate crisis, we're not afraid to name who is responsible. And as a global news organization, we're able to provide a fresh, outsider perspective on US politics – one so often missing from the insular American media bubble. 
Around the world, readers can access the Guardian's paywall-free journalism because of our unique reader-supported model. That's because of people like you. Our readers keep us independent, beholden to no outside influence and accessible to everyone – whether they can afford to pay for news, or not.
If you can, please consider supporting the Guardian today. Thank you.
Betsy Reed
Editor, Guardian US