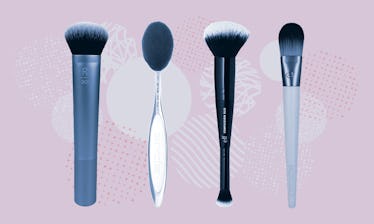 The Best Foundation Brushes
These tools are the key to a flawless base.
ELITE DAILY/AMAZON
We may receive a portion of sales if you purchase a product through a link in this article.
Thanks to the viral Mary Phillips makeup technique, people everywhere are swapping out their much-loved beauty sponges for more traditional foundation brushes. So where to begin on your quest? Well, foundation brushes aren't exactly one size fits all — the best foundation brush for you will depend on how much coverage you like and how you apply your makeup, so these are the things you'll want to keep in mind as you explore your options.
How To Choose The Best Foundation Brush
When shopping for a new foundation brush, the first thing you'll want to consider is how much coverage you want.
Low-to-medium coverage:

 

If you prefer a more natural finish, you'll want to opt for a fluffy powder brush or a flat-shaped brush with a pointed edge that can be used for cross-hatching thin layers of foundation onto your skin. You can also opt for a stippling brush, as stippling brushes require you to

 

stipple or "dot"

 

small amounts of foundation onto your skin at a time, resulting in an airbrushed-like appearance.
Medium-to-full coverage:

 

For those who prefer fuller coverage, or or after something that will help conceal acne spots or unwanted hyperpigmentation, you'll want to reach for a densely packed foundation brush with either a flat or domed top.
Also, consider your foundation-applying technique. In her now-viral video, Phillips uses a fluffy Hakuhodo brush to apply her foundation (note that she does use several other brushes, as well as a Beauty Blender, to apply concealer and contour prior to foundation). Or, take a page out of makeup artist Nam Vo's book and use an extra-large, flat-topped brush to expertly blend out your foundation (this is another foolproof way to get a natural, skin-like finish). But if you prefer fuller coverage, or also want a brush that you can contour with, you may prefer a smaller, more densely packed brush.
Shop The Best Foundation Brushes
In a pinch for time? Check out the best foundation brushes below:
Best Multi-Use Foundation Brush:

 

Real Techniques Expert Face Professional Foundation Brush
Best Classic Foundation Brush For Applying Foundation:

 

EcoTools Classic Foundation Brush
Best XL Foundation Brush For Blending Foundation:

 

Daubigny Flawless Foundation Brush
Best Dual-Ended Foundation Brush:

 

e.l.f. Complexion Duo Brush
Best Stippling Brush:

 

Keshima Duo Fiber Stippling Brush
1. Best Multi-Use Foundation Brush
This brush from pro-favorite brand Real Techniques can do it all. It has a domed top that's great for blending out foundation, while its oval-like shape easily fits into the hollow crevices of your face, making it ideal for contouring with, too. In addition, you can use this brush to apply powder foundation, blush, bronzer, and setting powder — just be sure to clean it between switching products (this brilliant product is perfect for that). The brush contains roughly 200 densely packed bristles, making it perfect for people who prefer a medium-to-full coverage effect.
2. Best Classic Foundation Brush For Applying Foundation
Some people prefer to use one brush to apply foundation with, and another to blend out the foundation. For applying cream and liquid foundation in smooth streaks, this EcoTools Classic Foundation Brush is perfect (and a firm favorite of countless professional makeup artists). It features a flat shape with a tapered edge that allows you to spread foundation over large surface areas (like your cheeks or forehead) while zoning in on hard-to-reach areas, like the corners of your nose or under your eyes. You can also use a cross-hatching technique (that means applying foundation onto your skin in X-shaped strokes) to apply foundation with this brush to create a diffused finish.
3. Best XL Foundation Brush For Blending Foundation
If the giant Dior brush Nam Vo uses to apply foundation is out of your budget, this is a great alternative. Not only is it one of the best tools for buffing out foundation for a natural, but high-coverage finish, but it's also one of the most popular foundation brushes on Amazon, with over 20,000 five-star ratings and counting. Since it's on the larger side, it's great for covering large surfaces areas at once, and can also be used to apply body makeup.
4. Best Dual-Ended Foundation Brush
Considering that most people who wear foundation wear concealer as well, this e.l.f. Complexion Duo Brush is a great investment (if you can call it that, considering it costs just $8 for two tools). It features a large, fluffy brush with a domed shape on one end to blend liquid and cream foundation onto your skin, while the smaller end allows you to apply and buff out concealer (it could also be used to contour the harder-to-reach areas of your face). Both brushes have densely packed bristles to help ensure even coverage and a smooth, airbrushed-like finish.
5. Best Stippling Brush
If you're taking a no-makeup-makeup approach to your foundation routine, consider choosing the Keshima Duo Fiber Stippling Brush. You can opt to stipple just one layer of foundation onto your skin for a subtle, day-to-day look, or stipple on two to three layers for a special event. As with all stippling brushes, this brush works well with cream and liquid foundations and can be used to apply cream blush or bronzer as well.
6. Best Splurge-Worthy Brush
"I've been loyal to this foundation brush since I first gave it a try more than five years ago," says Elite Daily beauty writer Marissa DeSantis of the pro-favorite Artis Oval 7 Brush. "While it looks like it takes a bit of getting used to, it's surprisingly comfortable to hold and seamlessly blends in foundation within seconds. The synthetic bristles feel incredibly plush against your skin, thanks to the brand's trademarked CosmeFibre technology. And it's also a versatile tool because it was designed to be used with liquid, cream, and powder products. If you decide to invest in one of these brushes, learn from my mistake and follow the brand's cleaning tips every week (or every other week at most!) so that you don't have to replace the brush as frequently."