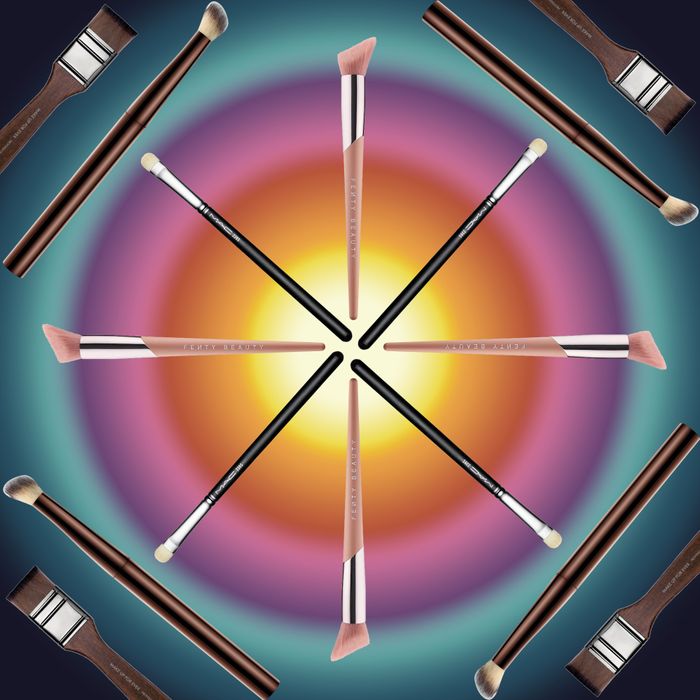 Photo-Illustration: by The Cut; Photos: Retailers
For more of the Cut's favorite fashion, beauty, and home finds, sign up for the weekly Cut Shop Newsletter.
It's fun to draw on your face with makeup sticks and finger paint with your pigments now and then, but it's hard to top the accurate application, beautifully blended finishes, and luxurious sweep that a high-quality makeup brush can deliver. Whether you're applying a fresh batch of concealer, getting uncomfortably close to your temperamental waterline, or placing a strategic dot of highlighter near the tear duct to look more sentient the morning after, here are the 30 best makeup brushes for every product you're putting on your face, organized by type and with input from makeup artists.
For Foundation and Concealer
The Affordable Brush
If you want proof that drugstore makeup brushes can hang with prestige ones, here it is. This firm foundation brush went viral on TikTok this year for its ability to seamlessly buff and blend out liquid foundation and get you flawless full coverage, all without breaking the bank or blowing your entire beauty budget. And even though it's a drugstore pick, makeup artists like Amber Amos love it. "It's perfect for liquid or cream foundations, and the dense short bristles allow you to blend or buff product on for a medium or fuller coverage."
The One Celebs and Influencers Love
Summer Fridays co-founder Marianna Hewitt told the Cut she thinks this is "the best makeup brush ever," and she isn't alone. Kim Kardashian, Jessica Alba, and Rosie Huntington-Whiteley have all sung the praises of this unbelievably soft combo foundation/concealer brush. Both sides distribute a product extremely evenly, leaving your skin with a beautiful airbrushed finish (and your makeup bag a little less cluttered, too).
The Brush for Every Type of Foundation
This dense brush is packed with extremely soft bristles that are shaped to set you up for success. Use one slanted side to apply your product (be it liquid, cream, or powder) and the other to smooth it into the skin for an airbrushed finish. And don't forget to run the ridge across all those hard-to-reach places, like along the sides of your nose and under your lower lip.
The Best Brush for Blending Concealer
Most concealer brushes have a characteristic flat brush head, but this one comes in a unique half-moon shape that comfortably hugs the contours of the face — especially under the eyes, where a lot of the concealing action typically takes place.
The Best Brush for a Matte Finish
While some brushes are better for powder and others are best for liquid, this full-coverage brush does both. A favorite of Carly Loudenburg, a Bobbi Brown National makeup artist, the brush features shorter bristles that make for a matte finish.
The Best Luxury Brush
Artis brushes are more expensive than most, but they're worth it. The Oval 7 in particular is packed with very dense hairs that deliver the most even foundation application. The brush head is small enough to fit around the corners of the nose, but big enough to spread foundation all over the face in about in a minute, and its a favorite of celebs like Maude Apatow.
The Best Buffing Brush
If you love a beauty blender, a buffing brush is your answer. The Brush No.1 from Merit is made from dense bristles that can be used on any product and gives your makeup a natural finish.
The Best Brush for a Smooth Finish
The Backstage line from Dior is supposed to mimic being a makeup artist backstage at runways — meaning it's a makeup brush made for quick and easy application with flawless finishes. The firm flat brush has a tapered end that makes it ideal to use for concealers and for precise application. Reviewers and makeup artists alike love the smooth finish it has.
For Your Cheekbones
The Best Brush for Highlighter
The name says it all: This asymmetrical brush literally hugs your cheeks, making it extremely easy to apply powder highlight regardless of your skill level. The chiseled shape (inspired by the shape of a shark tooth) is also great for highlighting other curved, protruding things on your face, like the bridge of your nose, brow bone, Cupid's bow, and collar bone. Plus it's pink.
The Best Brush for Blush
As one reviewer wrote, "If you're on the fence about this product, jump over it." IT Cosmetics makes great value brushes which are so soft that you will want to stroke them all over your face as a form of self-soothing. This blush brush gets rave reviews because it's packed with fluffy bristles and cut at a soft angle to mold perfectly to your cheekbones. It's perfect for blending and diffusing even the brightest of blushes. (You can also buy a full set for $50).
The One That Fixes All Your Mistakes
Think of this brush as a tiny, heavenly broom for your face. Its flat fan shape neatly sweeps away any excess product, like annoying eyeshadow fallout or a contouring session that got slightly out of control, with zero smudges or streaks. If you need more excuses to run this soothing fan of fluff all over your face (once you feel it, you will), it's also great at applying a thin, even veil of setting powder and turning the application of creamier things like tinted moisturizers or your favorite face mask into a spiritual experience.
The Rolls-Royce for Powders
Yes, this brush is incredibly pricey. But it might be the softest thing you've ever felt in your life. Its tapered edges make it perfect for picking up blush or setting powder and pressing it into the grooves around your eyelids and cheeks. (It's also made in Kumano). It would be a good gift for Mariah Carey, longtime lover of fluffy things who once asked for 20 white kittens for a public performance.
The One That Chisels Cheekbones
This brush looks like a real-life paint brush, and that's a sign that it means business. The short, dense bristles pick up a generous amount of product, making this an excellent choice for anyone looking for medium-to-full coverage. When used with a contour shade, the straight edge will quickly give you the sharp cheeks and jawline you never knew you had.
The One With an Airbrush Finish
Fashion and celebrity makeup artist Katie Mellinger says that this densely packed brush leaves highlighter with an airbrushed finish. "You don't have to use a brush for its branded use. I always think about the shape more than what I'm being told to use it for," she says. This brush from Lys is a domed shape, supersoft, and cruelty free, making it a great option for applying different highlight and contour options.
The Brush for Precision
Designed for streak-free shading, the 04 brush from Tom Ford is made with synthetic hairs and a smaller finish for precise contouring, and is a favorite of Loudenburg's.
The Best Brush for Setting Powder
"This brush gives me life, and the price point is affordable too," says makeup artist Amy Chin. This real techniques brush is perfect for powders, like highlight or setting. Chin likes to use this brush for precise application. "The bristles help naturally blend and create a soft look to the skin," she explains.
For Your Eyes (and surrounding areas)
The Best Brush for Eye Shadow
This soft shadow brush will get you any eye-shadow look your heart desires. Sweep shadow for an even wash of color, press and pat shadow using the flat side to build more color, or use the rounded tip to target shadow along your lash line.
The One for Anyone Who Has Small Eyelids or Loves Cut Creases
If you're a real beauty lover, you know that Kumano, Japan, is the Napa of luxury makeup brushes. The town is known for its artisanal production of makeup brushes (there's even an annual brush festival). Beautylish and Kumano–based brush maker Chikuhodo partnered to make an affordable brush line. This one is a particular standout, with reviewers loving how its soft squoval shape makes it easier to blend pigment. The smaller shape ensures that it won't dwarf those with smaller eyelids and makes it easy to make your cut creases look particularly sharp.
The Best Eyeliner Brush
The tip of this brush is a straight line — all the better for ensuring that your eyeliner doesn't end up crooked. Dip this into eye shadow or gel eyeliner to stamp on liner at your lash line. Or use it to softly blend your eyeliner deeper into the roots of your lashes, to make them look thicker and darker. Used either way, it will help fix and prevent wobbly liner.
The Best Brush for a Smoky Eye
The key to a good smoky eye is a bunch of blending, and that becomes a million times easier with this fluffy, tapered brush. The soft bristles seamlessly sweep over the colors you've already applied, creating smooth transitions between whatever's on your lid, in your crease, and under your brow bone. It's one of Mellinger's favorites for eyeshadow since it blends so beautifully.
The One That Makes Your Eyes Look Brighter
Sometimes you don't want a full-on, lid-spanning smoky eye. Sometimes you just want that subtle, lived-in looking, slightly smoked-out liner that makes you feel like Zoë Kravitz. Along with some eyeliner, this tapered pencil brush is basically all you need; Chin loves Sigma brushes, especially for the eyes. It softens and buffs out liner applied to the top and bottom lash lines without much pressure or dragging on your part, and it's also perfect for placing that highlight on the inner corner of eyes if you're feeling especially adventurous.
The Best Brush for Brows
If you want fuller-looking brows, this can help. One end has a delicate, slanted brush that makes it easy to draw sharp, individual hairs. The other holds a fine pronged spoolie that you can brush through brows to blend pigment so that they look natural.
The One That Makes Your Mascara Look Even Better
The hairs sprouting from your lash line deserve a quality brush too; especially if they're used to holding up clumps of mascara. Unlike the wands that live inside tubes of product, the precise, tapered teeth on this lash comb effortlessly glide through multiple coats of mascara, leaving you with defined, lengthened, and clump-free lashes every time.
If you don't like to fuss with multiple shadows, brushes, and blending techniques, this double-edged brush is perfect for creating an everyday eye look that still looks elevated, and in just a few sweeps it sculpts eyelids like no other. Use the flat side to brush a lighter shade of your choosing across the eyelid, then use the angled tip to apply a deeper shade into the crease and hollow of the eye and voila, a natural-looking eye that's a step-up from mascara alone.
For Your Lips
The Pink Brush
"I know it's branded for concealer, but I love it for lips. It's fuller than the typical flat brush and it has enough bend to contour the lip line while also being stiff enough to apply more lipstick," says Mellinger. For under $10 and coming in the cutest bubblegum pink, it's a brush worth adding to your basket.
The Best Brush for Liners
While this brush is made for applying any and all lip formulas, its precision tip is perfect for lip liners and its angled tip is perfect for precision. It's a staple in Chin's kit because it has a comfortable hold.
The Dual- Lip Brush
What's more perfect than a two-in-one option? This Chanel brush has an angled brush so you can precisely outline your lips and a flatter side to apply color and blend. Angela Levin highly recommends Chanel brushes for their elegant finish and their longevity.
The Best Sets
The Starter Set
If you would rather not buy your makeup brushes individually, this set is stocked with six super-soft brushes that will rise to whatever occasion your face needs to be prepped for.
The Set With Everything You Need
A 13-piece brush set is the answer to almost all makeup needs, and this one from Amoy features Amos's favorite contour brush. "The rounded contour brush is the perfect size to map out your contour and the rounded bristles make blending super-easy," she says. Apart from it having great brushes, she loves that it comes in a magnetic holder so you don't have to worry about brushes rolling around.
The Travel Set
Amy Chin also loves the quality of these brushes. "I love that Surratt is committed to Japanese philosophy of the Monozukuri Craftsmanship. You can just tell that these brushes are made with love and ultrasoft to the touch," she says. While it's on the pricier side, these three brushes are perfect for traveling or for keeping at home.
Our Experts: